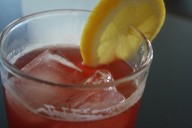 The folks at Williams-Sonoma asked me a few questions about what continues to be one of the hottest health trends.
Q: I notice you have a "kids friendly" section on your blog. Juicing has become so popular that parents started to create juices for their children. What juice do you recommend as being kid friendly giving them the right amount of nutrients, and why?
A: Nothing should replace whole fruits and vegetables, especially for the kiddos but mixing things up with fresh juices is never a bad thing. You really can't go wrong – fruits and veggies offer a slew of antioxidants, plus vitamins vital to grown and development like A, C and K. Naturally sweet and colorful combos like apple, spinach, and melon or fresh and tangy parsley and pineapple are popular in my house. One of my favorite recipes from my upcoming cookbook, First Bites: Superfoods for Babies and Toddlers is my Watermelon-Pineapple-Carrot Juice – it's simple, delicious, and healthy for the kids (and makes an amazing cocktail with some vodka for the grown ups).
Q: Juice cleanses are very popular right now. What are 3 recommendations you would give someone that is starting their juicing journey for weight loss? Any ingredients that you would suggest working the best for weight loss?
A: I caution my clients about strict juicing plans for weight loss because truly for long term success, juice alone isn't going to cut it. That said, a few days of fresh, well-composed juices to jump start a healthier lifestyle can work well for some folks. Apples, avocados, bananas, mangoes, chia seeds and coconut milk are some of my ingredients because they are super satisfying and filled with nutrients.
Q: Have you juiced before? We'd love to hear about your experience. When starting a juicing journey it may be difficult to figure out which ingredients work best together. What was the first juice you created, and did it taste how you thought it would?
A: My juicing experience is scattered but I love to experiment. I've certainly gotten better with practice — I've learned that simple is best! I stick to flavors I know I like – lemons, pineapple, carrots and then mix it up with small amounts of bolder, more adventurous things like beets and ginger.
Thanks to the Williams-Sonoma community for including me on this! Happy juicing!