Archive for the 'Healthy One Pan Dinners' Category
A satisfying meal in your cast iron skillet.
The ultimate comfort food.
Flank Steak Tacos with Charred Corn Salsa from my upcoming cookbook – Healthy One Pan Dinners
Healthy One Pan Dinners: Pesto Turkey Meatballs with Orzo
Tuesday, May 12th, 2020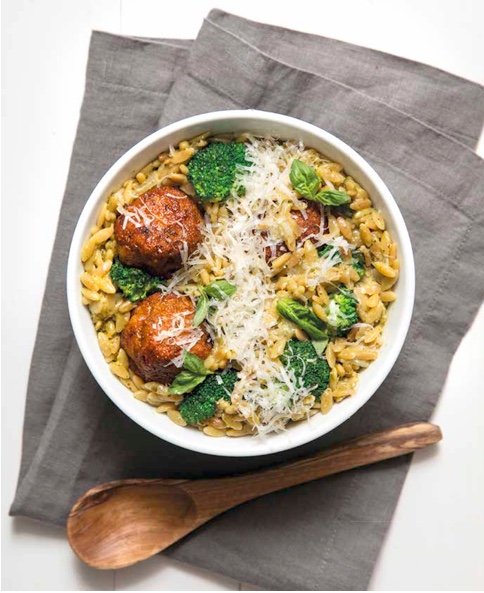 A satisfying meal in your cast iron skillet. Herbaceous pesto boosts the flavor throughout the dish and using lean ground turkey keeps it light yet filling
Serves : 4
1 pound 90% lean ground turkey
1 large egg, beaten
½ cup panko breadcrumbs
3 tbsp prepared pesto
Kosher salt
Black pepper
2 tsp olive oil
½ cup chopped onion
1 cup uncooked orzo pasta
2 1/2 cups low-sodium chicken stock
3 cups broccoli florets
Parmesan cheese to serve
In a large bowl combine the ground turkey, egg, breadcrumbs and 1 tbsp pesto. Season with salt and pepper. With clean hands, gently mix well and form into 8 balls.
In a cast-iron skillet, heat the olive oil over medium-high heat. Add the meatballs and cook until browned on all sides, about 8 minutes. Transfer to a plate.
To the same skillet, add the onion and remaining 2 tbsp pesto and sauté for 1 minute. Add the orzo and toss to coat in the sauce, cooking for another 1 to 2 minutes to gently toast the orzo.
Stir in the stock, increase the heat to high and bring to a simmer. Add the meatballs back to the skillet along with broccoli florets. Reduce the heat to low, cover and cook for 10 minutes or until orzo is tender and the meatballs are cooked through. Sprinkle with Parmesan and serve.
Store in an airtight container in the refrigerator for 3 to 4 days or freeze for up to 3 months.
Nutrition Per Serving
Calories: 483; Total Fat: 19 grams; Saturated Fat: 4 grams; Total Carbohydrate: 45 grams
Sugars: 4 grams; Protein: 35 grams; Sodium: 311 milligrams; Cholesterol: 130 milligrams
Fiber: 4 grams
Posted by Dana White / Filed under
Healthy One Pan Dinners
/ Comments: 0
Chicken Enchiladas
Sunday, April 26th, 2020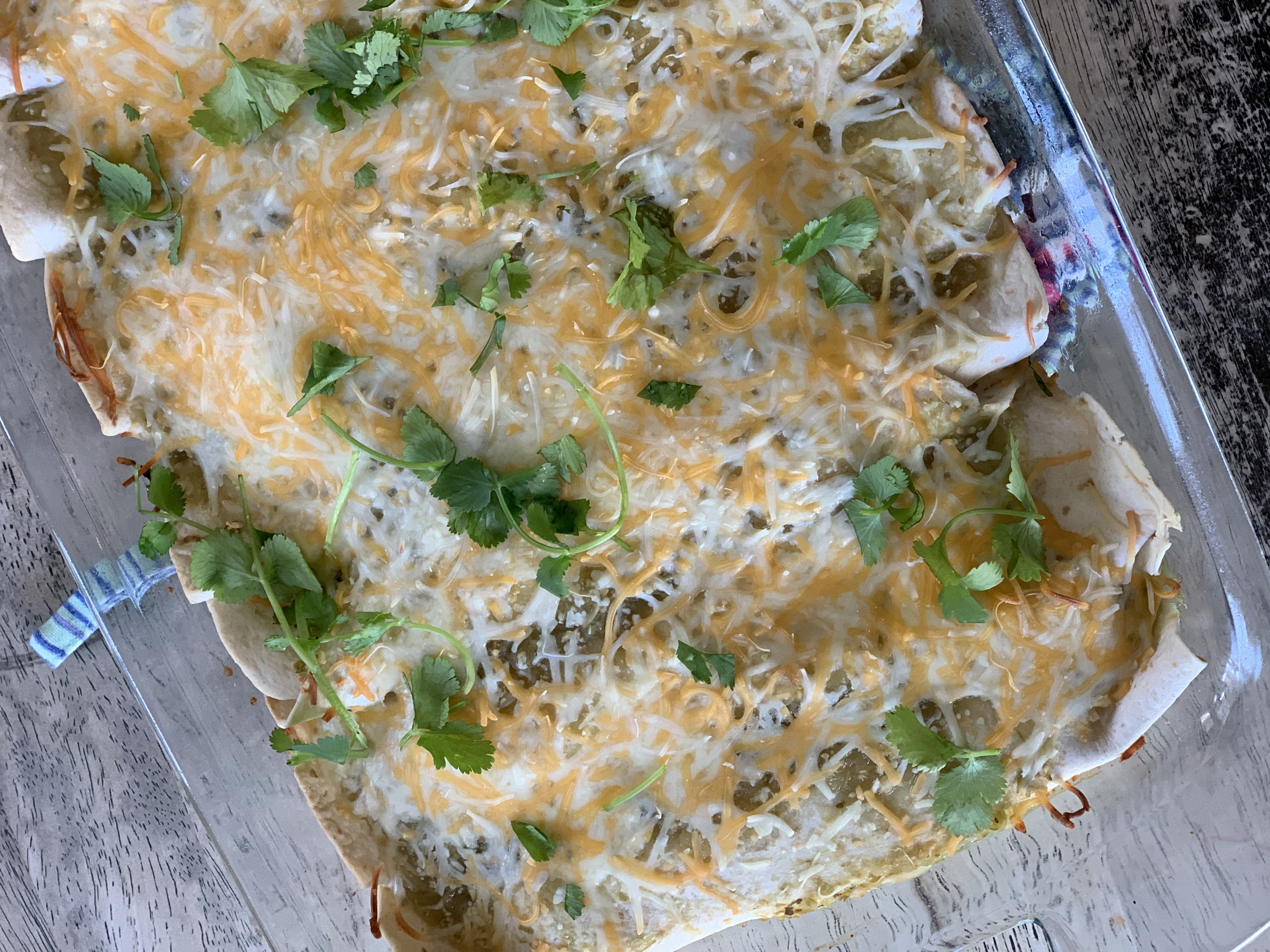 Makes 8 servings
A one-pan meal everyone will love. Use leftover chicken or try a variation with sautéed ground beef or mushrooms and zucchini for a vegetarian version. For easy clean up or freezer meals, prepare this in a disposable tray. This recipe can also be made ahead, refrigerate or freeze before baking.
3 pounds bone-in, skin-on split chicken breasts
2 tbsp olive oil
2 tsp kosher salt
1 tsp black pepper
½ red onion, diced
1 bell pepper, finely chopped
1 tsp ground cumin
2 tbsp all-purpose flour
¾ cup chicken or vegetable stock
1 ½ cups salsa verde
2 cups shredded cheddar cheese
8 (8-inch) tortillas (corn or flour)
Fresh cilantro for garnish, optional
Preheat oven to 375F. Place chicken breasts on a sheet pan, season with 1 tsp salt and ½ tsp pepper. Bake for 40 to 45 minutes, or until internal temp reaches 165F. Set aside to cool. Turn off oven. Once chicken is cool enough to handle, pick the meat off the bones; shred and transfer to a bowl.
While the chicken is cooling, heat oil in a large skillet. Add onion and bell pepper. Season with remaining salt, pepper and ground cumin and sauté for 5 minutes. Sprinkle with flour and cook for 2 to 3 minutes more.
Add chicken stock to pan, stir and remove any bits from the bottom of the pan. As the sauce thickens add cooked chicken and stir to combine.
Spray a 9×13 casserole dish with nonstick spray, coat the bottom with ¼ cup of salsa verde and set aside. Preheat the oven to 375F.
Scoop 1/8 of the chicken mixture on to the center of a tortilla, sprinkle with cheese and roll up. Place in the prepared casserole dish. Repeat with remaining tortillas. Spread remaining salsa verde over the top of tortillas and sprinkle with remaining cheese.
Bake for 15 minutes or until cheese is melted and bubbly. Allow to cool slightly before serving.
TO freeze, allow to cool completely and cover with a layer of parchment paper and a second layer of aluminum foil. To reheat, go right from freezer to oven, bake at 375F covered for 45 minutes, remove foil and cook for an additional 15 minutes until cheese is melted.
Nutrition per serving
Calories: 518; Total Fat: 20; Saturated Fat: 8; Cholesterol: 151; Sodium: 678; Total Carbohydrate: 33; Dietary Fiber: 2; Sugars: 4; Protein: 51
Posted by Dana White / Filed under
Healthy One Pan Dinners
/ Comments: 0
Healthy One Pan Dinners: Steak Tacos
Wednesday, April 22nd, 2020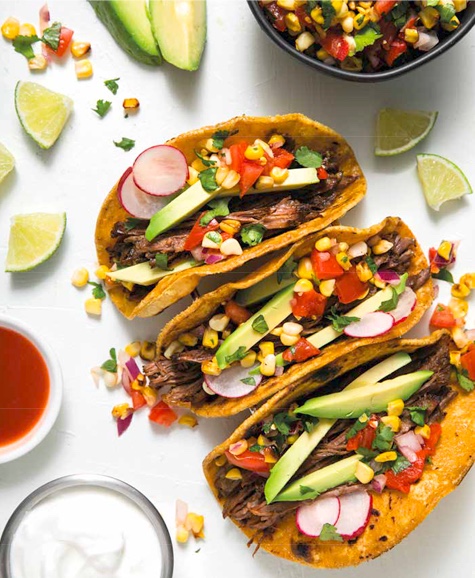 The best set-it-and-forget-it meal for taco lovers. Flank steak is one of the leanest cuts of beef, yet it's still incredibly flavorful and fall-apart tender when slow cooked. This is a great make-ahead recipe for busy weeknight any time of year. Healthy One Pan Dinners will be released June 9th – pre-order your copy here.
Flank Steak Tacos with Charred Corn Salsa
Yield: 6 servings
Juice of ½ orange
1 garlic clove, finely chopped
1 tsp honey
1 tsp olive oil
1 tsp ground cumin
1 tsp smoked paprika
1 tsp kosher salt
½ tsp chili powder
½ tsp black pepper
2½ lb flank steak
1 yellow onion, sliced
For the salsa
2 ears of corn, cooked* (see note)
1 roasted red pepper, chopped
1 medium tomato, seeded and chopped
3 tbsp finely chopped red onion
Juice of 1 lime
2 tsp olive oil
½ cup chopped fresh cilantro
½ tsp kosher salt
3 dashes hot sauce
12 (6-inch) corn tortillas
To serve: Greek yogurt, Diced avocado, Lime wedges
In a small bowl, combine the orange juice, garlic, honey, olive oil, cumin, smoked paprika, salt, chili powder and black pepper.
Place the flank steak and onion in the slow cooker and pour the sauce over top. Using tongs, turn the meat over a couple of times to ensure it is fully coated in sauce. Cover and set to slow cook on LOW for 8 hours.
To prepare the salsa, place the corn directly oven an open flame on a gas burner on medium-high heat or under the broiler for 2 to 3 minutes per side or until charred as desired. Set aside to cool slightly.
Once the corn is cool enough to handle, cut the kernels from the cob and place in a medium bowl. Add the roasted red pepper, tomato, red onion, lime juice, olive oil, cilantro, salt, and hot sauce. Stir and set aside.
When cook time is up, remove the slow cooker lid and drain away the cooking liquid, reserving about 1/3 cup. Shred the meat, adding back small amounts of the cooking liquid as desired.
Serve on warmed tortillas with charred corn salsa and Greek yogurt, avocado, and lime, if desired.
*note: Substitute frozen corn, defrost and char in a dry skillet over high heat
 Nutrition per serving (2 tacos with salsa)
Calories: 485; Total Fat: 18g; Saturated Fat: 6g; Cholesterol: 123mg; Sodium: 323mg; Total Carbohydrate: 37g; Dietary Fiber: 5g; Sugars: 6g; Protein: 45g
Posted by Dana White / Filed under
Healthy One Pan Dinners
,
Recipes
/ Comments: 0