Archive for the 'Uncategorized' Category
Favorite Amazon PRIME DAY Deals
Monday, July 15th, 2019
Shopping till you virtually drop? Here are a few of my favorite prime deals so far- while supplies last! This post may contain affiliate links.
Cookbooks
Pick up a copy of one or all of my cookbooks!
Instant Pot
This is my go to Instant Pot – the one I use every.single.day. Amazing deal on the 6-QT Duo Plus
Philips
The company that makes my beloved XXL Air Fryer has some awesome deals on this Smokeless Indoor Grill – my favorite things to make on it are chicken sausage and tiny pizza for the kids!
Ninja Foodi
I simply love the concept of a 2-in-1 air fryer and multicooker – hello Ninja Foodi. I have played around with this appliance and so far it lives up the hype. A great pick for the home cook just diving into gadgets. It's currently $100 off!! – the dehydrator feature is awesome and I have perfected ribs in this thing! I also got the scoop that other Ninja products are on super sale at Target, Best Buy and Kohl's.
Mealthy
From multicookers to the CrispLid (yup ,turn your pressure cooker into an air fryer) this brand has some deals across several appliances. The CrispLid SOLD OUT on amazon but you can still get it here!
Bella Air Fryers
Love the look of these air fryers from Bella, lots of styles, features and price points to choose from!
Bella 2.6 QT Air Fryer – only $39.99!
Bella Touchscreen Air Fryer
KIND Bars
Kitchen gadgets aside, if you are looking to stock up on snacks KIND bars (disclosure: I partner with them, because I love these bars) Dark Chocolate Nuts & Sea Salt bars, Peanut Butter Dark Chocolate bars, Caramel Almond & Sea Salt bars and Dark Chocolate Cherry Cashew + antioxidants bars will all be 35% off for a 12-count box!
Posted by Dana White / Filed under
Uncategorized
/ Comments: 0
Favorite Foods for Skin Health – and a Minty Mango Smoothie
Monday, April 8th, 2019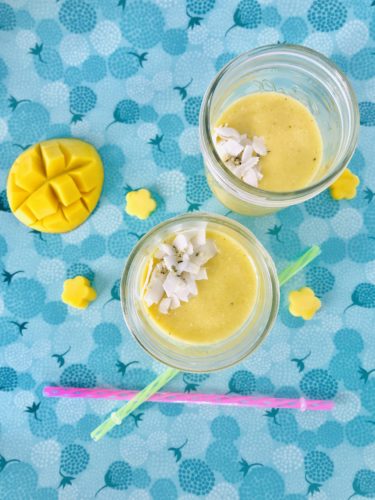 This blog was created in partnership with the National Mango Board, but all opinions are my own.
 This time of year, I am paying extra attention to my skin. The winter dryness is finally subsiding and I'm looking forward to hitting the beach for more sunshine (wearing sunscreen, of course). Sunshine aside, your diet also plays a huge role in the health of your skin.
One part of eating for skin health is backing off on foods that work against a healthy complexion like candy, fried foods, alcohol and salty snacks. The more enjoyable part of eating for skin health includes getting more of these 3 delightfully, skin pleasing foods.
Mango
Juicy mangos help keep me hydrated plus they have several skin loving nutrients. More research is needed to make a direct connection about mangos and skin health but mangos have nutrients in all the right places. Mangos are an excellent source of vitamin A, a nutrient vital for skin and eye health. They are also an excellent source of vitamin C which may help improve the texture, moisture and elasticity of skin.  Vitamin C also plays an essential role in the syntheses of collagen – the protein that gives skin strength and structure.  Mango coleslaw and fruit leather are my warm weather go-to recipes, but one of the best ways to enjoy mango is in this inflammation fighting smoothie where the sweetness of mango is teamed up with the cool freshness of mint See recipe below
 Salmon
High in inflammation fighting omega-3 fats and low in mercury, I have committed to eating more salmon in 2019! It makes for a healthy and fast weeknight dinner when roasted or after (my new favorite) a quick cook in the Instant Pot.
Nuts
With healthy fats and plentiful amounts of vitamin E, nuts like almonds, walnuts and pistachios can promote heart and skin health. Add nuts to smoothies, salads, trail mix and homemade granola. For a decadent, lower guilt treat try chocolate bark.
Minty Mango Smoothie
Serves: 2
1 cup chopped fresh mango
1 frozen banana
3-4  fresh mint leaves
2 tbsp hemp seeds
1 cup orange juice
2 tbsp dried unsweetened coconut
Ice
Combine ingredients in a blender and blend until smooth. Pour into glasses and serve.
Nutrition Per Serving: Calories: 248; Total Fat: 9 grams; Saturated Fat: 4 grams; Total Carbohydrate: 42 grams; Sugars: 30 grams ( 0g added sugar); Protein: 6 grams; Sodium: 4 mg  milligrams; Cholesterol: 0 milligrams; Fiber: 4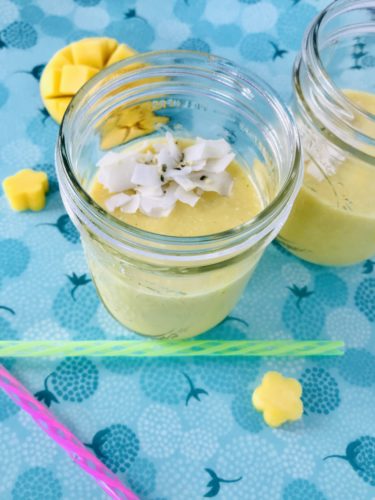 Posted by Dana White / Filed under
Just Yummy
,
Kid-Friendly
,
Recipes
,
Seasonal Goodies
,
Uncategorized
/ Comments: 0
Microwave Egg & Cheese Sandwich
Tuesday, January 8th, 2019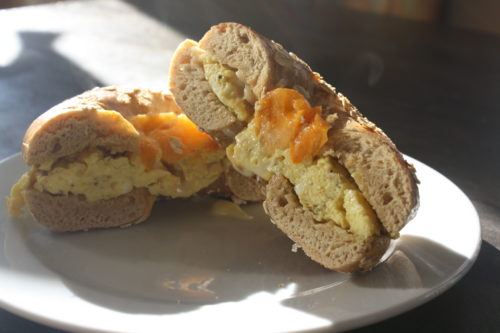 There's always time for breakfast! This grab and go option is ready in less than 3 minutes. To drop the calories a bit serve on a whole grain English muffin or flatbread instead of a bagel 
Serves: 1
1 bagel, toasted
2 large eggs
Pinch salt and black pepper to taste
¼ cup shredded cheese
Optional add-ins: spinach, chopped tomato, broccoli, cooked potato, bacon or turkey
Place eggs in a microwave safe bowl; scramble with a fork and season with salt and pepper. Microwave on high for 60 seconds, scramble gently and top with cheese and other add ins, if desired. Microwave for an additional 30 seconds or until eggs are set and cheese is melted. Place egg mixture on bagel and enjoy.
Nutrition Information Per Serving
| | | |
| --- | --- | --- |
| Calories: 543 | Total Fat:  21 grams | Saturated Fat:  10 grams |
| Carbohydrate:  58 grams | Fiber: 3 grams | Protein: 30 grams |
| Sodium: 1022 milligrams | Cholesterol: 397 milligrams | |
Posted by Dana White / Filed under
Uncategorized
/ Comments: 0
Pineapple Mango Chia Shake
Tuesday, May 1st, 2018
Serves: 2
1 cup unsweetened almond milk
1 cup frozen mango chunks
1 cup frozen pineapple chunks
1 medium clementine
2 tsp chia seeds
1. In a blender, combine almond milk, mango, pineapple, clementine and chia seeds.
2. Blend until smooth.
3. Pour into glasses and serve.
Nutritional information
137 calories, 2g fat (0g saturated fat), 0mg cholesterol, 92mg sodium,
32g carbohydrates (25g sugar, 0g added sugar, 5g fiber), 2g protein
Posted by Dana White / Filed under
Uncategorized
/ Comments: 0
Best Sweet Treats For The Holidays
Sunday, December 3rd, 2017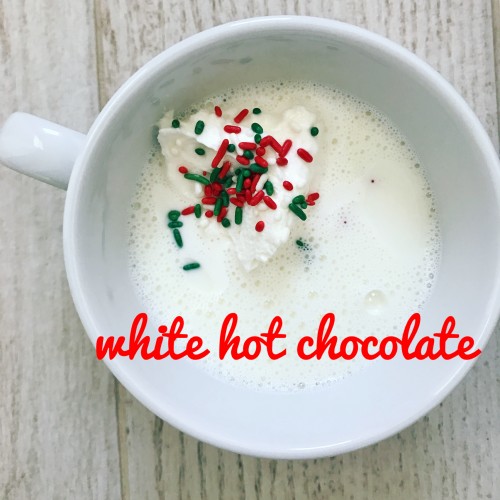 It's the holidays – TREATS HAPPEN. Here is a round up of low guilt goodies for your next party, gathering or cookie swap.
I admit I have a sweet tooth. Instead of over indulging, I find ways to enjoy the foods I love while giving them a healthy(ish) spin.
For the Choco-holics……
White Hot Chocolate (pictured above)
White Chocolate Pistachio Crunch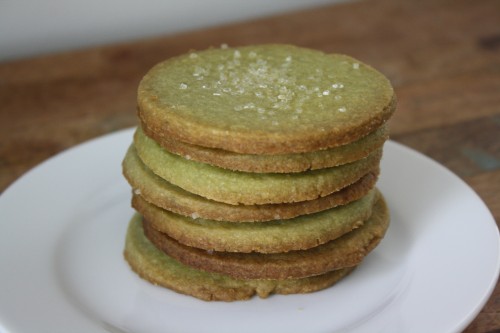 Cookies, Pie and Frozen Treats……
Matcha Shortbread Cookies (above)
What's your favorite holiday treat?
Posted by Dana White / Filed under
Uncategorized
/ Comments: 0
Weekend Project: No Churn Matcha Ice Cream
Friday, July 28th, 2017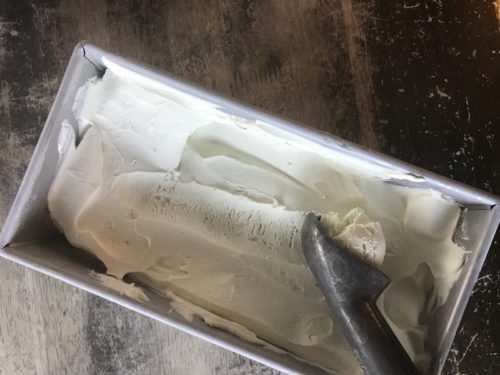 Make a batch of cold and creamy green tea spiked ice cream to cool off this weekend. No machinery needed! Matcha green tea powder is filled with cell-protecting antioxidants and has a subtle earthy flavor that is perfect with vanilla. I first made this for a July 4th celebration served atop a blueberry crostada– needless to say my guests were pleased. A 1/4 cup serving on top of a fresh fruit dessert is all you need.
No Churn Matcha Ice Cream
Makes 20 (1/4 cup) servings
2 cups heavy cream
1 (14oz) can sweetened condensed milk
2 tablespoons matcha powder
2 teaspoons vanilla extract
Using a hand mixer or stand mixer, whip the cream until soft peaks form (like whipped cream for a sundae). In a separate bowl whisk the sweetened condensed milk, matcha and vanilla until well combined.
Using a rubber spatula, pour the matcha mixture into the whipped cream and gently fold until combined.
Pour mixture into a freezer safe bowl (I like to use a standard loaf pan), cover with a layer of parchment paper directly on the top of the mixture.
Place in the freezer for at least 6 hours or overnight.
Calories: 155; Total fat: 11g; Saturated Fat: 6g; Carbohydrate: 13g; Protein: 2.5g
Posted by Dana White / Filed under
Uncategorized
/ Comments: 0
Last Minute DIY Holiday Gifts
Friday, December 19th, 2014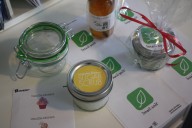 I love making homemade gifts for family and friends. Simple ingredients and printable labels are are all you need! If you're looking for last minute gifts that are still personal and creative – check out this list!
1.) Homemade Coconut Oil Sugar Scrub – recipe compliments of the lovely Kelly at New Leaf Wellness.
2) Herb Salt – this recipe for Basil Salt from Food Network magazine FN Dish is my fave.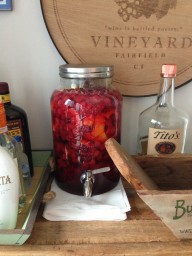 3.) Infused Vodka – most varieties only need a few days to steep. Cranberry-Orange is pictured above – see more ideas in this Healthy Eats post.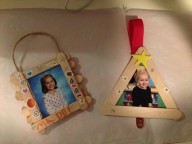 4) Homemade Ornaments – a great way to use school pics and popsicle sticks (just add some glue and stickers). What grandparent wouldn't love these?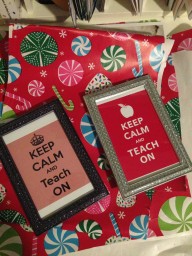 5) Custom Photo Crafts – photo printer and some fun frames can work wonders for a teacher or neighbor.
Posted by Dana White / Filed under
Uncategorized
/ Comments: 0