Archive for the 'Product Reviews' Category
Holiday Gift Guide 2017
Tuesday, November 21st, 2017
Need some holiday gift ideas for the healthy foodies on your list? Here are a few of my favorite things.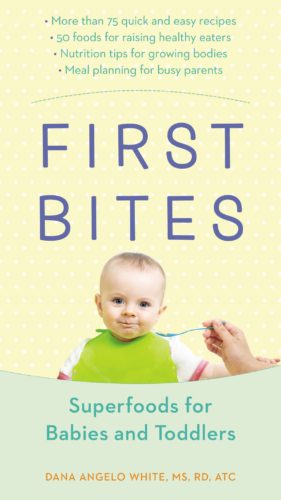 Recipe Inspiration
Signed cookbooks from SHOP Dana White Nutrition. Anyone expecting a baby? Bundle The Whole 9 Months and First Bites! I'm also digging the concept behind the Perfect Bake 2.0 – love the idea of being able to scale baking recipes up and down without doing all that math.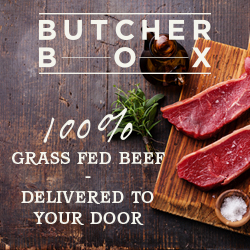 Delicious Delivered
The best quality meats from Butcher Box — plus FREE BACON! Spice subscriptions from Dash & Dram. Lunch boxes and water bottles from Box Appetit. Gourmet chocolate from Chuao. And don't forget to sweat a little with a camo tank from lululemon and some bright and wild muscle recovery from PRO Compression Socks.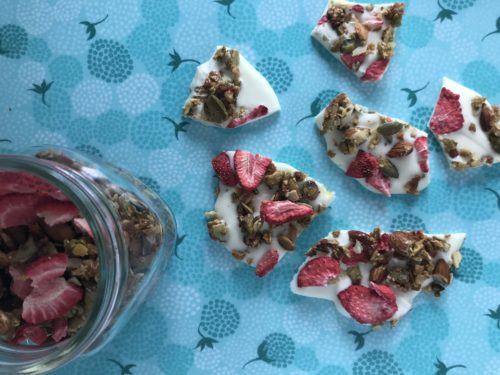 Homemade Gifts
Some of the best gifts are the ones you make yourself. Homemade Vanilla Extract is still my favorite go-to hostess gift and little bags of Strawberry Crunch Bark make delightful stocking stuffers and party favors.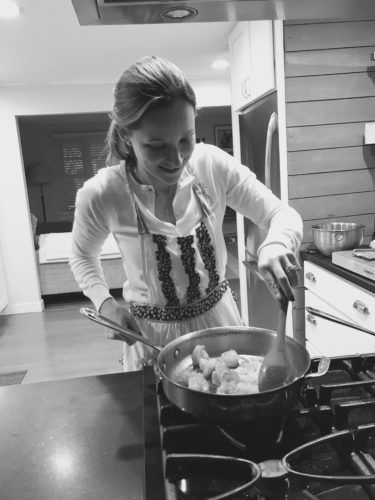 Nutrition Services
Does someone you love need a jump start on healthy habits? Treat them to nutrition counseling or customized meal planning.
Posted by Dana White / Filed under
Product Reviews
,
Recipes
,
Seasonal Goodies
,
Sports Nutrition
/ Comments: 1
The Death of My Fancy Fridge (and a recipe for IceBox Cake)
Monday, October 16th, 2017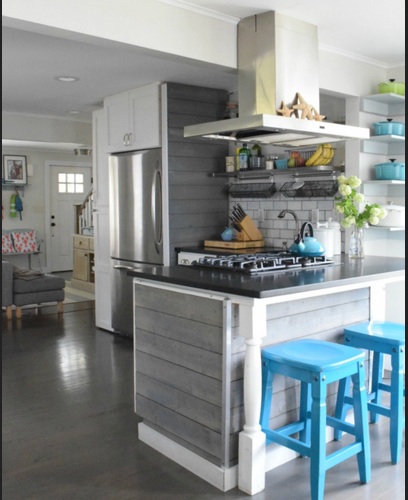 Back in April 2012 I spent over $3000 on a fridge. My fancy GE Profile bottom drawer freezer showed up in all its glory – actually no, with a dent in the door but I was willing to overlook it. A new door was installed and the terror really began. After 3 service calls, a new compressor (which I'm told are supposed to last for a decade, minimum) and a new electrical circuit plate of some sort, I came to the conclusion that this thing was a lemon and refused to spend another penny. How long did this take? About 5 years – that's $600 of fridge a year (NOT including parts and service) and in my book – that's unacceptable.
The destiny of fridge/freezer is basic. Keep. Things. Cold (or frozen, in the proper area). I have a dinosaur of a fridge in my garage that's at least 20 years old. She's not perfect but she's still doing her job – she's a GE Profile by the way.
I went shopping for a new fridge and was horrified. So much nonsense, I just want cold. To the untrained (and less jaded) eye touch screens, light up panels, hi-lo doors and LED landing strip lights may look like appealing features but I see them for what they really are – more things to break. And (wait for it) they're even more expensive now – $4K was a fair average.
"They don't make 'em like they used to" says the salesman. Well, why the hell not? Why should I spend 4k on something I have absolutely no confidence in? Um, I won't.
 
So where did I end up? Which fridge did I buy? Like most folks that cook regularly (and I do it more than most) you can only go so long without something to chill your food, so I had to chill out.  
Under a fair amount of internal protest, I bought a (very) basic LG model – for an all-in cost of just under $1200. It is perfect? No. Is it the esthetic I want in my kitchen? Not really. Is it keeping things cold? So far, so good. It has more storage capacity and wide shelving which works well for large trays – an unexpected bonus. I'm still feeling unsettled. Why is it so hard to find a reliable appliance? Still waiting for an acceptable answer.
Your reward for putting up with my rant is my favorite recipe that relies on the fridge to do the "cooking." A dose of chocolate is called for!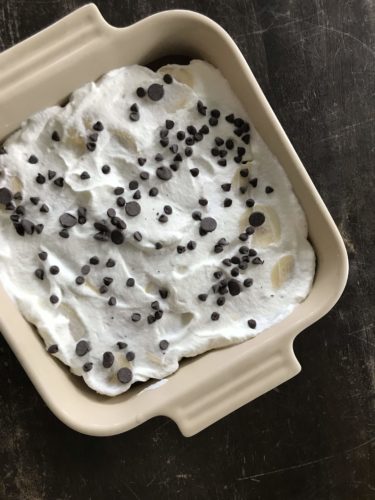 Dana's IceBox Cake
Serves: 6
1/3 cup whipping cream
2 teaspoons confectioners
Graham crackers (8 full sheets)
1 ½ cups chocolate pudding (homemade or store-bought is fine)
2 medium bananas
Mini chocolate chips (optional)
Combine cream and sugar in a bowl, using a stand mixer or hand mixer, whip until stiff peaks form; set aside. Arrange a layer of graham crackers in the bottom of an 8×8 square baking dish. Pour chocolate pudding over the graham crackers and gently spread to cover. Slice bananas and place a layer of bananas over the pudding. Top with an evenly spread layer of whipping cream and sprinkle with chocolate chips, if using. Cover with plastic wrap and place in the refrigerator for at least 2 hours. Serve chilled.  
Calories: 185; Total Fat: 7 grams; Saturated Fat: 4 grams; Total Carbohydrate: 28 grams
Sugars: 16 grams; Protein: 4 grams; Sodium:  95 milligrams; Cholesterol:  24 milligrams
; Fiber: 2 grams
kitchen photo credit: Brooke Christen (modified via Nesting with Grace)
Posted by Dana White / Filed under
Product Reviews
,
Seasonal Goodies
/ Comments: 0
Health Dessert Alternatives – Easy Fruit Whips
Friday, January 16th, 2015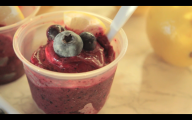 By: Melissa Halas-Liang, MA RDN CDE
The not so sweet truth

On average, 16% of children and adolescents' total calories come from added sugars. For kids aged two to five, an average of 13 teaspoons of sugar is consumed each day. And for adolescents ages six to 19, this number jumps to 22 teaspoons of sugar every day! The recommended limit is less than 5 teaspoons per day for preschool kids, elementary school children, and adolescent girls and between less than 9 teaspoons for adolescent boys.  Fruit, like this frozen fruit whip, can be used as a refined sugar replacement to help youand your kids cut back on added sugars and create nutrient-dense treats and desserts.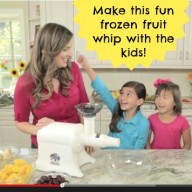 Click here to watch the step-by-step video.
Eat your colors!
All kids, big and small, can benefit from adding more colorful foods to their diet. By eating a variety of colors, we can improve our intake of beneficial nutrients called phytochemicals. Phytochemicals help our bodies in a number of ways such as by aiding in heart function, preventing cellular damage, strengthening the bones, and fighting off illness. Because fruit is naturally sweet, it is a delicious way to get more protective plant compounds, called phytochemicals, in your kids'–and your own–diets.
Ask your kids what their favorite colors are. Maybe they love radiant red cherries, brilliant blue blueberries, or pretty purple plums. Empower your kids with making choices to improve their health. Not only will they be getting the vitamins and minerals that their growing bodies need, but essential fiber as well! This is a crucial consideration because fewer than 40% of kids ages two to 17 meet their fiber needs. Aim for getting at least four different colors in your diet each day. Try making fruit whips as a satisfyingly sweet, nutritious treat that will help you meet your color goals. Use the Colorful Food Tracker to chart your progress!
To make fruit whip:

Simply select 1 cup of the fruit of your choice or combine flavors for a unique twist. If selecting fresh fruit, first wash, cut, and freeze the fruit. My favorite is frozen bananas which you peel first and then freeze in an airtight bag or container. Frozen fruit requires no additional preparation. Adults may prefer more sophisticated flavors such as blueberries blended with Meyer lemons, while kids may prefer just one fruit or simple flavors such as only mango or only cherry, or strawberries and bananas. Experiment with flavors to find out which ones are your favorites. Additionally, different flavors of fruits can be layered in a glass dessert dish for a vibrant and beautiful fruity treat.
If you have any leftovers, pour them into popsicle molds and freeze them. This way you will have a healthy treat around when your sweet tooth is calling.
Fruit whip
This fruit whip is made with the Champion Juicer because it quickly and efficiently homogenizes the fruit with dozens of small blades, but you can also use a food processor or blender.
Ingredients:
Any frozen seedless frozen fruit of your choice.
Directions:
Cut fresh fruit into chunks that fit into the feeding tube. Freeze in an airtight container. Or purchase ready to use frozen fruit.
Fit the blank screen (or use homogenizing body) onto the juicer body. 
Run frozen fruit chunks through juicer into bowls, serve immediately.
The best part is the Champion Juicer does all the hard work, so you don't need to scrape out the side of the blender, start, and stop again. It comes out 100% smooth and ready to eat! Yum!
Melissa Halas-Liang, MA, RDN, CDE is a Registered Dietitian and Certified Diabetes Educator with a Masters in Nutrition Education who is a nationally recognized childhood nutrition expert. She is founder of SuperKids Nutrition Inc. where she is "saving the world, one healthy food at a time." Read more about her Super Crew children's books and discover how nutrition can help you live your best health potential through her on-line courses blog, Melissa's Healthy Living.
Posted by Dana White / Filed under
Guest Post
,
Just Yummy
,
Kid-Friendly
,
Product Reviews
/ Comments: 0
Healthy Holiday Gifts
Wednesday, December 10th, 2014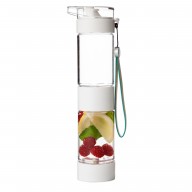 Dana White Nutrition has partnered up with Uncommon Goods to highlight some healthy and sustainable gift ideas. This Brooklyn-based company prides themselves on featuring tons of products made in the USA.  Plus about 1/3 of their collection incorporates recycled and or upcycled materials. A big thanks to Uncommon Goods for providing me with some goodies to play with — here are just a few of my favorite things.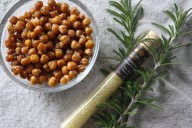 Flavors of America Salt
A collection of US purveyed salts featuring flavors like Maine Apple Wood Smoked and California Vintage Merlot.  The Hawaiian Citrus was a perfect finishing touch on this recipe for Crunchy Rosemary Chickpeas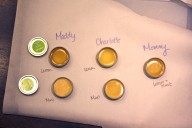 DIY Lip Balm Kit
I am a huge fan of homemade beauty products. My girls helped make stocking stuffers for the women in our family. Click here to see more gift ideas for women.
Manhattan Rooftop Honey Flight
I am amazed by the versatility of this natural sweetener and love that these varieties are cultivated in nearby New York City.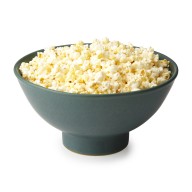 The Popcorn Bowl with Kernel Sifter
We make a lot of popcorn in my house – a healthy snack for parents and kids alike. This bowl prevents the little ones from gobbling (the unavoidable) unpopped pieces. To make homemade popcorn place ¼ of kernels in a brown paper lunch bag and fold over the top twice to close. Microwave on high for approximately 2 minutes. Pour into a large bowl and top with melted butter and season with salt.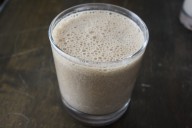 Cold Brew Coffee Maker
Amazing coffee and zero electricity required. This is the perfect gift for my hubby who drinks iced coffee 365 days a year. Don't waste the leftovers – make my Coffee Cure Smoothie.
Click here to find more gifts for men.
Define Water Bottle (pictured above)
Is drinking more water one of your new year's resolutions? This stylish bottle was created by a teenager looking for a way to enjoy his mom's flavored water creations while on the go (a guy after my own heart). Just add fresh ingredients to the bottom compartment and allow the flavors to infuse. Some of my favorite seasonal combinations are mint & cucumber, clementine & grapefruit, and kiwi.
Posted by Dana White / Filed under
Product Reviews
,
Seasonal Goodies
/ Comments: 0