Archive for the 'Ice Cream Sundays' Category
Red, White and Blue: July 4th Layered Ice Pops
Thursday, June 29th, 2017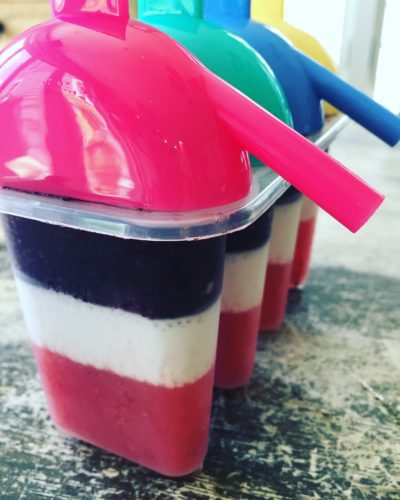 A festive, colorful, and healthy way to beat the heat this Independence day! These layered ice pops use antioxidant-rich berries, melon, banana and coconut to create an edible version of those patriotic colors. Kids will swoon for these naturally sweetened ice pops (no added sugar in these babies) and a splash of tequila will turn them into a refreshingly boozy treat for the grown ups. Each layer needs some time to freeze so be sure to make these the day before your July 4th celebration.
Red, White & Blue Ice Pops
Makes 12  Ice pops
Layer 1: Strawberry-Watermelon
1 cup whole strawberries
1 cup diced watermelon
½ cup water or coconut water
Layer 2: Banana-Coconut
1 cup canned coconut milk
1 medium banana
Layer 3: Wild Blueberry
1 cup frozen wild blueberries
½ cup 100% apple juice
Combine the strawberries, watermelon and water in a blender and blend until smooth. Pour mixture into popsicle molds, filling each mold 1/3 of the way up. Place molds in the freezer (do not insert sticks yet) and allow to freeze for 20 minutes or until slightly firm. While the first layer is freezing, wash out the blender and repeat process by blending the coconut milk and banana. Pour a second layer into molds with the banana mixture and return to the freezer for another 20 minutes. For the final layer, blend wild blueberries and apple juice until smooth. Fill the popsicle molds to the top with the blueberry mixture and then gently insert sticks and caps of the molds. Return to the freezer and allow to completely freeze for at least 4 hours or overnight.*
Nutrition Per Ice Pop: Calories: 66; Total Fat: 4 grams; Saturated Fat: 4 grams; Total Carbohydrate: 8 grams; Sugars: 4 grams; Protein: 1 gram; Sodium:  7 milligrams; Cholesterol: 0 milligrams; Fiber: 1 gram
*Note – For the alcoholic version, mix 1 tablespoon of tequila with each layer and allow an extra 15 to 20 minutes to freeze between layers. Use different molds or add garnishes of fresh fruit so it's easy to tell which ice pops contain alcohol.
This recipe was originally featured on the KidBox blog – the Scribble
Posted by Dana White / Filed under
Ice Cream Sundays
,
Kid-Friendly
,
Recipes
,
Seasonal Goodies
/ Comments: 0
Ice Cream Sundays: Strawberry-Lemonade Sherbet
Wednesday, July 20th, 2016
First off let's explain the difference between sorbet and sherbet (please refrain from calling it sher-BERT). Sorbet contains no dairy – typically a mixture of fruit, fruit juice and sugar. Sherbet contains some form of dairy – typically milk, cream, or a combination so it's lower in fat than ice cream or gelato.
I simply love the sweet-tart mixture of berries and lemon in this recipe – the creaminess of half and half mellows out the acidity just enough.
Strawberry-Lemonade Sherbet
This is a pretty forgiving recipe. I've made it with 1/4 cup of lemonade instead of lemon juice and it works well both ways. If you want to it prevent it from getting too icy – you can add 2 tablespoons of light corn syrup in place of the same amount of sugar.
Makes: 1 quart (8, 1/2 cup servings)
3 cups half and half (well chilled)
3/4 cup granulated sugar
1/4 cup strawberry sauce or strawberry puree
Juice and zest of 2 lemons
In a large bowl, whisk ingredients together. Transfer to an ice cream maker. Mix according to the manufacturer's suggestions, until thick and frosty (about 20 minutes). Transfer to a freezer-safe container and allow to harden in the freezer for at least 4 hours. Store in the freezer for up to one month.
Nutrition Info Per Serving: Calories: 193; Total Fat: 10 gram; Saturated Fat: 6 grams; Total Carbohydrate: 24 grams
; Protein: 3 grams
Posted by Dana White / Filed under Ice Cream Sundays, Kid-Friendly / Comments: 0


Ice Cream Sundays: Mini Ice Cream Sandwiches
Saturday, July 16th, 2016
Unbelievably yummy and super cute – these ice cream treats might just be the family favorite of the summer.
Use any combination of small cookies and ice cream for this easy recipe. Trader Joe's Cookie Thins are the perfect size and texture. Roll in sprinkles, mini chocolate chips, or chopped nuts for some added crunch.
Some fun flavor combos
ginger cookies + strawberry ice cream
almond cookies + chocolate chip ice cream
vanilla cookies + black raspberry ice cream
lemon cookies + peach frozen yogurt
chocolate cookies + salted caramel gelato
Mini Ice Cream Sandwiches
Makes 12
24 Trader Joe's Toasted Coconut Cookie Thins
3/4 cup Ben & Jerry's Cherry Garcia ice cream, softened
Colored sprinkles
Place 12 cookies (flat side up) on a flat surface. Top each cookie with 1 tablespoon of ice cream, top with another cookie and press gently until ice cream reaches edges of the sandwich. Roll in sprinkles and place in a freezer safe container for at least 1 hour to harden.
Nutrition Info Per Piece: Calories: 65;  Total Fat: 3 grams; Saturated Fat: 2 grams; Carbohydrate: 9 grams; Protein: 1 gram
Posted by Dana White / Filed under
Ice Cream Sundays
/ Comments: 0
Ice Cream Sundays: Smoothie Pops
Monday, August 4th, 2014
My girls love to make smoothies for breakfast but we always have some left over. While they don't get very exited about keeping them in the fridge for later on – freezing them on a stick has a totally different appeal.
Using a blender whirl up any combo of the following
2 cups frozen fruit
8 ounces yogurt
2 cups 100% fruit juice, boxed coconut milk or almond milk
This should make enough to fill 6 standard popsicle molds, plus leave with some extra for sipping.
Posted by Dana White / Filed under
Ice Cream Sundays
,
Just Yummy
,
Kid-Friendly
/ Comments: 0
Ice Cream Sundays: Homemade Frozen Yogurt
Monday, July 28th, 2014
Making homemade fro yo is so incredibly simple and you'll skip over all the processed ingredients found in store-bought containers.
Start with 1 1/2 cups of 2% Greek yogurt and mix with 1/2 cup of any flavor regular yogurt. Whisk in 1/3 cup superfine sugar* and run in a ice cream machine for 10 minutes. Enjoy the softserve-like version right away or allow to harden for 2 hours in the freezer before serving. Store for up to 2 weeks. The best part of the creamy cool confection —there's only 110 calories and 5 grams of fat per 1/2 cup serving.
*tip* if you don't have superfine sugar, put granulated sugar in a food processor and pulse until fine
Posted by Dana White / Filed under
Ice Cream Sundays
,
Kid-Friendly
,
Recipes
/ Comments: 1
Ice Cream Sundays: Toasted Coconut & Hot Fudge
Sunday, July 20th, 2014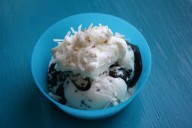 In honor of National Ice Cream Day – the fam and I put together this special treat.
Toasted Coconut Sundaes with Hot Fudge Sauce
Serves 1
1 large scoop ice cream
1 tablespoon Hot Fudge Sauce
1 tablespoon sweetened coconut (toasted)
1 tablespoon whipped cream
Calories: 374; Fat: 23 grams; Saturated Fat: 15 grams; Carbohydrates: 36 grams; Sodium: 77 grams; Fiber: 1 gram
Posted by Dana White / Filed under
Ice Cream Sundays
/ Comments: 0