Tuna Pasta Salad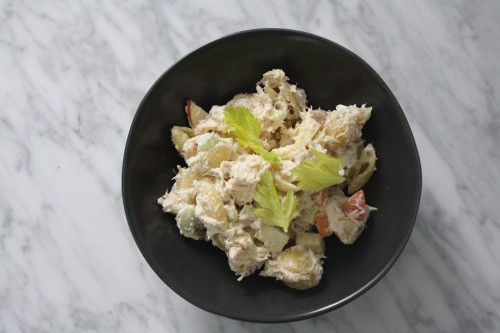 Make this protein-packed canned tuna recipe for an easy post workout lunch or light dinner.
Serves: 4
1 (5 oz) can chunk light tuna in water, drained
1 (5 oz) can solid white albacore tuna in water, drained
½ cup chopped celery
1 small apple, diced
Juice of ½ a lemon
¼ cup mayonnaise
¼ teaspoon kosher salt
3 cups cooked whole grain pasta, cooled
In a large bowl combine tuna, celery, apple, lemon juice and mayo; season with salt and mix well to combine. Toss prepared tuna with cooked pasta.
Nutrition Per Serving (about 1 ½ cups)
Calories: 329; Total Fat: 13 grams; Saturated Fat: 2 grams; Cholesterol: 39 milligrams; Sodium 401 milligrams; Carbohydrate: 34 grams; Fiber 6 grams; Sugars: 5 grams; Protein: 22 grams