Taco Night!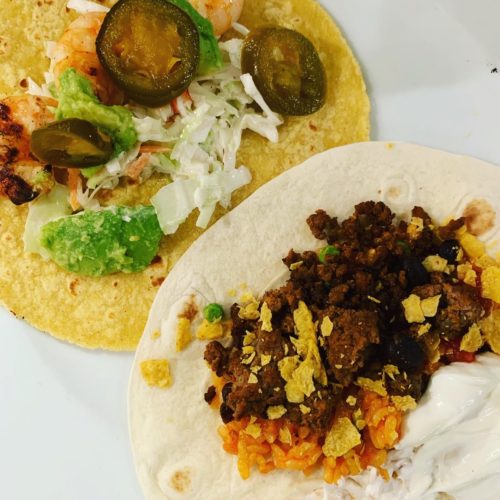 These easy tacos use a combo of lean beef and black beans for plenty of protein and a boost of fiber. Beans are also super affordable so their addition allows you to get more servings of tacos with 1 pound of meat.
Serves 6
1 pound 90% lean ground beef
½ teaspoon kosher salt
2 tablespoons taco seasoning*
2 tablespoons water
1 (15 oz) can black beans, rinsed and drained
12 (6-inch) Flour or Corn tortillas, warmed
Toppings: Salsa, shredded cheese, shredded carrots, diced avocado, hot sauce, greens,
Heat a large skillet over medium-high heat. Add beef, season with salt, and cook for 3 to 4 minutes until it begins to brown. Add taco seasoning and water and continue to cook, stirring frequently until meat is cooked through. Add beans and cook for an additional 5 minutes to warm beans. Serve beef mixture in warm corn tortillas with desired toppings.
*If you don't have taco seasoning, use a combo of (2 tsp each) chili powder and ground cumin – add in some smoked paprika for some extra smoky sweetness.
Nutrition Info Per Serving (2 Tacos): Calories: 455; Total Fat: 15 grams; Saturated Fat: 4 grams; Total Carbohydrate: 48 grams; Sugars: 2 grams; Protein: 30 grams; Sodium: 555 milligrams; Cholesterol: 64milligrams; Fiber: 6 grams