Chicken Enchiladas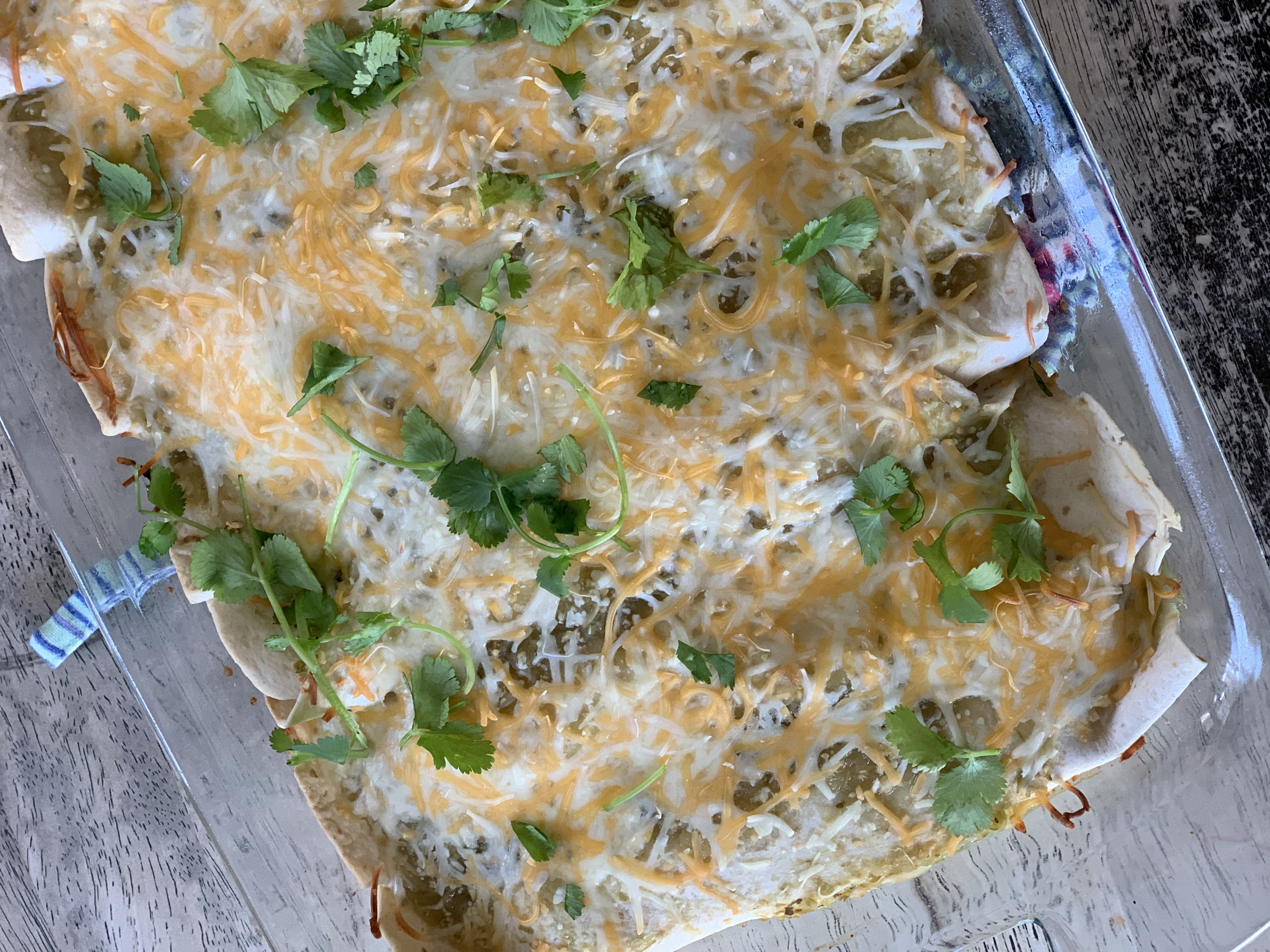 Makes 8 servings
A one-pan meal everyone will love. Use leftover chicken or try a variation with sautéed ground beef or mushrooms and zucchini for a vegetarian version. For easy clean up or freezer meals, prepare this in a disposable tray. This recipe can also be made ahead, refrigerate or freeze before baking.
3 pounds bone-in, skin-on split chicken breasts
2 tbsp olive oil
2 tsp kosher salt
1 tsp black pepper
½ red onion, diced
1 bell pepper, finely chopped
1 tsp ground cumin
2 tbsp all-purpose flour
¾ cup chicken or vegetable stock
1 ½ cups salsa verde
2 cups shredded cheddar cheese
8 (8-inch) tortillas (corn or flour)
Fresh cilantro for garnish, optional
Preheat oven to 375F. Place chicken breasts on a sheet pan, season with 1 tsp salt and ½ tsp pepper. Bake for 40 to 45 minutes, or until internal temp reaches 165F. Set aside to cool. Turn off oven. Once chicken is cool enough to handle, pick the meat off the bones; shred and transfer to a bowl.
While the chicken is cooling, heat oil in a large skillet. Add onion and bell pepper. Season with remaining salt, pepper and ground cumin and sauté for 5 minutes. Sprinkle with flour and cook for 2 to 3 minutes more.
Add chicken stock to pan, stir and remove any bits from the bottom of the pan. As the sauce thickens add cooked chicken and stir to combine.
Spray a 9×13 casserole dish with nonstick spray, coat the bottom with ¼ cup of salsa verde and set aside. Preheat the oven to 375F.
Scoop 1/8 of the chicken mixture on to the center of a tortilla, sprinkle with cheese and roll up. Place in the prepared casserole dish. Repeat with remaining tortillas. Spread remaining salsa verde over the top of tortillas and sprinkle with remaining cheese.
Bake for 15 minutes or until cheese is melted and bubbly. Allow to cool slightly before serving.
TO freeze, allow to cool completely and cover with a layer of parchment paper and a second layer of aluminum foil. To reheat, go right from freezer to oven, bake at 375F covered for 45 minutes, remove foil and cook for an additional 15 minutes until cheese is melted.
Nutrition per serving
Calories: 518; Total Fat: 20; Saturated Fat: 8; Cholesterol: 151; Sodium: 678; Total Carbohydrate: 33; Dietary Fiber: 2; Sugars: 4; Protein: 51