Cheesecake Stuffed Strawberries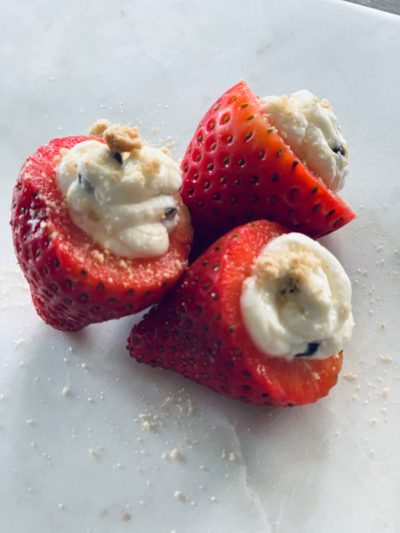 The most fun and healthy dessert for strawberry season. If you spend a lot of time cleaning strawberries (#guilty) this cute little huller is totally worth it.
Makes about 15 strawberries
1 pound strawberries, cleaned, dried and tops removed
4 oz cream cheese, softened
½ cup nonfat plain Greek yogurt
½ cup powdered sugar
1 tsp vanilla extract
¼ cup mini chocolate chips (optional)
1 sheet graham cracker (or ½ cup animal crackers), crushed
Using a paring knife clean out the inside of the strawberry
In a bowl mix cream cheese, Greek yogurt, sugar and vanilla until smooth. Mix in chocolate chips if using.
Place mixture in a small zip lock bag and cut off corner off with scissors.
Squeeze mixture into strawberries and sprinkle cracker crumbs if desired. Serve immediately or store the refrigerator in a sealed container for up to 5 days.
Nutrition Per 1 strawberry
Calories: 55 ; Total Fat: 2 grams; Saturated Fat: 1 gram; Total Carbohydrate: 7 grams
Sugars: 6 grams; Protein: 1 gram; Sodium: 29 milligrams; Cholesterol: 8 milligrams
Fiber: 1 gram