Basic Overnight Oats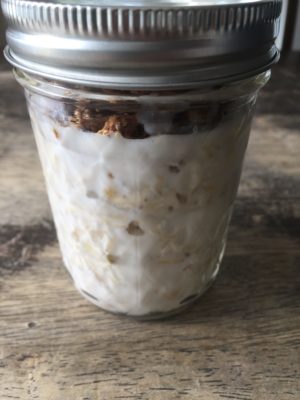 The basic formula to make the most delicious overnight oats. Make it your own with any of your favorite spices and toppings. Instead of a jar, use an almost empty container of peanut butter!
1/2 cup rolled oats
1/2 cup milk (any kind)
2 tsp chia seeds
2 tsp honey or maple syrup
For serving: granola, chopped nuts, fresh or frozen fruit
In a small jar combine oats, milk, chia seeds and honey; stir to combine. Cover and place in the refrigerator overnight. To serve, remove lid, stir well and top as desired.
Nutrition Info Per serving
Calories: 315; Total Fat: 7 grams; Saturated Fat: 1 grams; Total Carbohydrate: 47 grams
Protein: 12 grams; Sodium: 71 milligrams; Cholesterol: 2 milligrams; Fiber: 10 grams