Instant Pot Risotto Bar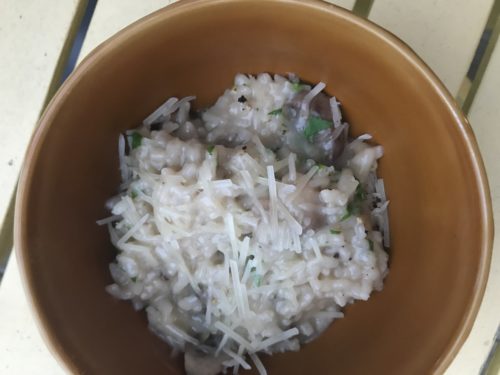 Shockingly smooth, creamy and easy to make. Truly delicious risotto with your Instant Pot doing all the work.
1 tbsp unsalted butter
1 tbsp olive oil
1 small onion, finely chopped
¾ tsp kosher salt
¼ tsp freshly ground black pepper
1.5 cups Arborio rice
3 tbsp dry white wine
3.5 cups low sodium or homemade chicken stock
¾ cup grated Parmesan cheese
Topping suggests: spinach, sun-dried tomatoes, sautéed mushrooms, roasted veggies
Set Instant Pot to sauté mode. Heat oil and butter, add onion and sauté for 2 to 3 minutes until onions are softened and translucent. Season with salt and pepper.
Add rice and toss to coat in the oil. Turn off the heat and add wine to deglaze the pot.
Stir in the chicken stock. Cover and lock the lid, set the valve to the sealing position. Set to Pressure Cook (high) for 10 minutes.
When the cook time is up, allow the pressure to naturally release for 10 minutes, then manually release remaining pressure.
Remove the lid and stir in ½ cup of the cheese and desired toppings. Serve hot.
Nutrition per serving
Calories: 467; Total Fat: 13g; Saturated Fat: 5g; Cholesterol: 21mg; Sodium: 408mg; Total Carbohydrate: 69g; Dietary Fiber: 3g; Sugars: 5g; Protein: 19g