Air Fryer Sriracha Honey Chicken Wings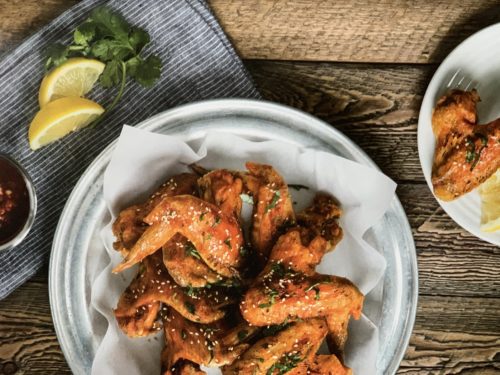 Fried chicken wings can tip the scales at more than 150 calories EACH. This version slashes the fat and cuts the calories by more than 400 calories per serving.
1 tbsp Sriracha hot sauce
1 tbsp honey
1 clove garlic, minced
½ tsp kosher salt
16 chicken wings and drumettes (about 2 pounds)
1.Preheat the air fryer to 360°F.
2.In large bowl whisk together the Sriracha, honey, minced garlic and kosher salt, then add the chicken and toss to coat.
4.Spray the fryer basket with nonstick cooking spray, then place 8 pieces in the basket and cook for 15 minutes, turning half way through. Repeat this process with the remaining wings.
5.Remove the wings from the fryer and allow to cool on a wire rack for 10 minutes before serving.
Serving size: 4 pieces
Calories 167
Total fat 4g
Saturated fat 1g
Cholesterol 66mg
Sodium 309mg
Carbohydrates 5g
Dietary fibers 0g
Sugars 5g
Protein 26g
Excerpted from Healthy Air Fryer Cookbook reprinted by permission of Alpha, a division of Penguin Random House LLC. Copyright © 2017 by Dana Angelo White