Summertime Broccoli Salad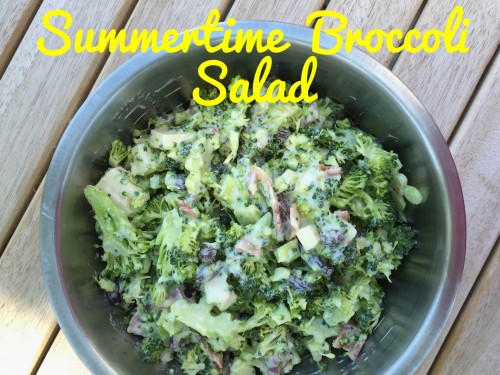 A tangy yogurt based dressing teamed up with other nutritious ingredients means this salad packs in plenty of protein, calcium and fiber. Go ahead and make in advance, it actually tastes better once the flavors have a chance to mingle. Serve with any of your summer BBQ favorites.
Serves: 8
¼ cup nonfat plain Greek yogurt
2 tablespoons mayonnaise
1 tablespoon honey
2 teaspoons apple cider vinegar
½ teaspoon kosher salt
½ cup raisins
1/4 red onion, thinly sliced
2 ounces sharp cheddar cheese, diced
3 slices cooked bacon, finely chopped
4 cups finely chopped broccoli
In a large bowl whisk yogurt, mayonnaise, honey, vinegar and salt. Add raisins, onion, cheese, bacon and broccoli and toss well. Serve immediately or store in the refrigerator for up to 3 days.
Nutrition Per Serving: Calories: 137; Total Fat: 6.5g; Saturated Fat: 2.5g; Cholesterol: 17mg; Sodium: 371mg; Carbohydrate: 13g; Fiber: 4g; Protein: 7g