Mediterranean Wild Rice Salad (Instant Pot Recommended)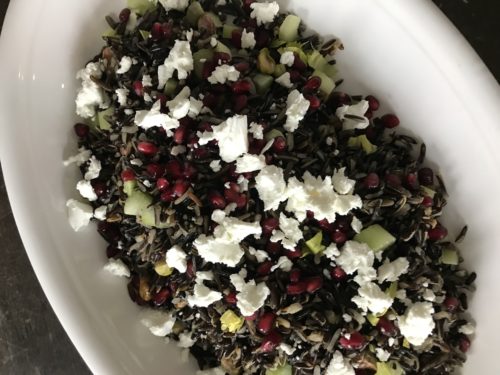 Wild rice is filled with protein and is an antioxidant powerhouse. The earthiness of this rice is balanced by flavors of lemon, pomegranate and tangy goat cheese. Mix up the ingredients with the seasons – this works beautifully with ripe tomatoes and feta in the summer and dried cranberries and cheddar in the winter. 
Serves: 6
2 cups wild rice, rinsed and drained
2 ¼ cups water
1 tsp kosher salt
2 tbsp olive oil
2 tbsp freshly squeezed lemon juice
2 tsp lemon zest
½ cup pomegranate arils or dried cranberries
½ cup chopped celery
½ cup shelled pistachios, roughly chopped
½ cup crumbled goat cheese
Combine the rice, water and kosher salt in the inner pot
Cover, lock the lid, and flip the steam release handle to the sealing position. Select Pressure Cook (high) and set the cook time for 10 minutes. When the cook time is complete, all the pressure to release naturally for 5 minutes, and then quick release the remaining pressure.
Remove the lid. Transfer the cooked rice to a large bowl to cool slightly
Add the olive oil, lemon juice, lemon zest, pomegranate arils, celery and pistachios to the bowl. Toss gently.
Transfer to serving bowls and sprinkle goat cheese over top of each serving. Serve warm.
Nutrition Info Per Serving
Calories: 252; Total fat: 10g; Saturated Fat: 2g; Cholesterol: 6mg; Sodium: 178mg; Carbohydrates: 35g; Fiber: 4g; Sugars: 3g; Protein: 9g
Excerpted from Healthy Instant Pot Cookbook reprinted by permission of Alpha, a division of Penguin Random House LLC. Copyright © 2018 by Dana Angelo White