Instant Pot (Frozen) Maple Dijon Salmon with Sweet Potatoes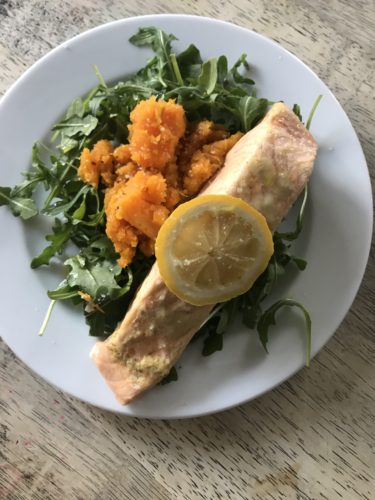 Trying to eat more salmon? It helps if it can be ready in minutes! This one pot meal is as delicious as it is healthy and I am downright obsessed! The salmon can go from freezer to pot with no defrosting necessary and the total cook time is LESS THAN 15 minutes, including pressure build time. If you do have fresh salmon on hand, cut down the cook time by 2 minutes and cut the sweet potatoes a little bit smaller to assure even and complete cooking.
Serves: 2
2 medium sweet potatoes, peeled and diced
1/2 cup water
1/2 tsp kosher salt or Naughty Spice
1 tsp olive oil
2 (5 ounce) pieces of frozen salmon
1 tsp Dijon mustard
1 tsp maple syrup
2 slices lemon
Serving suggestions: fresh arugula, olive oil, fresh lemon juice + sea salt
Place sweet potato in the bottom on the inner pot; add water, salt (or seasoning) and olive oil and mix gently. Spray a wire rack with cooking spray and place inside the pot on top of the sweet potatoes. Lay pieces of salmon on the rack. In a small bowl mix mustard and maple syrup and then brush it on the salmon and top with lemon slices. Cook on high pressure for 5 minutes. When the cook time is up, quick release the pressure and remove the lid. Remove the salmon and the rack and mash the sweet potatoes with a fork. Arrange a bed of arugula on a plate, drizzle with olive oil, a squeeze of fresh lemon juice and a sprinkle of sea salt – top with mashed sweet potato and salmon.
Calories: 349; Total Fat: 11g; Total Carbohydrate: 29g
Protein: 33g; Sodium: 447mg; Cholesterol: 64 mg
Fiber: 4g