Recovery Burrito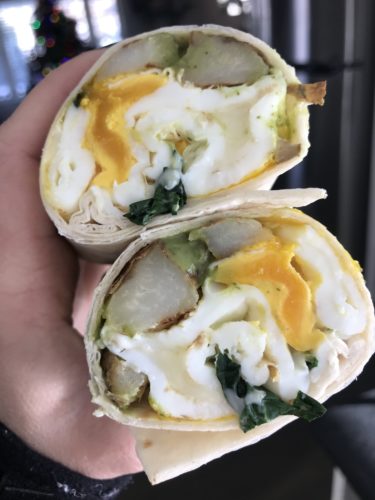 Post workout recovery requires protein for fatigued muscles, healthy carbs to refill energy reserves and vegetables (or fruit) to fight inflammation – and you can roll it all into a burrito!
This recipe can be tweaked 100 different ways using whatever cheese and veggies you have on hand. Mix it up!
Serves: 1
2 large eggs
¾ cup vegetables (suggestions: kale, spinach, chopped peppers, diced cooked potato or sweet potato)
1 slice cheese
1 (8-inch) flour tortilla
Heat a nonstick skillet over medium-high heat. Spray with nonstick spray and add eggs to the pan, cook for 2 to 3 minutes and flip over. Add vegetables and cheese to the pan and cook until cheese is melted and eggs are cooked to desired doneness. Lay tortilla on a flat surface and place egg + veg mixture in the center. Fold in the sides and then roll up. Cut in half and serve immediately or wrap in foil to take on the go.
Nutrition Information per Serving
| | | |
| --- | --- | --- |
| Calories: 395 | Total Fat: 17 g | Saturated Fat: 7 g |
| Carbohydrate: 35 g | Fiber: 4  g | Protein: 25 g |
| Sodium: 531 mg | Cholesterol: 387 mg | |