Sweet Potato & Bacon Soup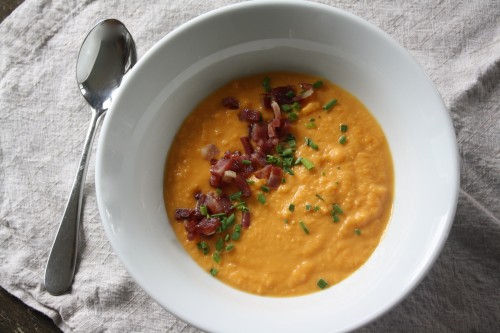 An awesome recipe for Thanksgiving leftovers or to serve as an appetizer with a holiday meal.
Makes 2 quarts
4 slices bacon, roughly chopped
1/2 yellow onion, chopped
1/2 teaspoon each kosher salt and black pepper
3 medium baked sweet potatoes, skin removed (about 3 cups)
1 quart chicken or turkey stock
1/4 cup heavy cream
Chopped chives for garnish
Cook bacon in a large soup pot until crisp. Transfer to a paper towel to drain. Add onions to pot, season with salt and pepper, and sauté over medium heat for 4 to 5 minutes. Add sweet potato and stock and stir to combine; bring to a simmer. Once bubbling, stir in cream and puree soup using an immersion blender. Serve topped with reserved bacon and chopped chives.
Nutrition Info (per 1 cup serving); Calories: 119; Total Fat: 4 grams; Saturated Fat: 2 grams; Total Carbohydrate: 17 grams; 
Sugars: 6 grams; Protein: 4 grams; Sodium: 305 milligrams; Cholesterol: 28 milligrams; 
Fiber: 3  grams