Instant Pot Cranberry Sauce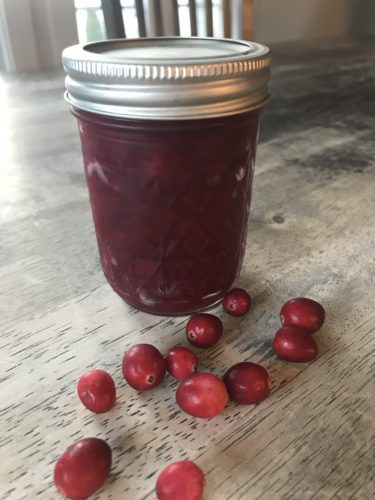 I have a cranberry sauce addiction. I love it, have always loved it, and find it necessary to eat it throughout the year.  I have pined over the perfect recipe for countless Thanksgivings and the search is over. The most delicious batch of sweet-tart cranberry flawlessness is less than 20 minutes away – start to finish – using the Instant Pot.
Makes 1 quart
24 ounces fresh cranberries
1 cup granulated sugar
1/4 cup orange juice
1 tbsp orange zest
pinch koser salt
1 tbsp honey (optional)
Combine cranberries, sugar, orange juice, orange zest and salt in the inner pot. Gently stir to coat the cranberries in the sugar.
Cover and lock the lid, set the vent to the sealing position. Select PRESSURE COOK (HIGH) and set timer to 2 minutes. When cook time is complete, allow for 5 minutes of natural release, then quick release the remaining pressure. Remove the lid, stir in the honey and transfer to containers to cool. Store in the refrigerator for up to 2 weeks.
Nutrition Info Per Serving (2 tbsp): Calories: 38; Total fat: 0g; Total Carbs: 9g; Sodium: 4mg; Fiber: 1g; Protein: 0g
For more healthy recipes using your Instant Pot check out my Healthy Instant Pot Cookbook – on sale now!