Instant Pot Recipe: Mediterranean Farro Salad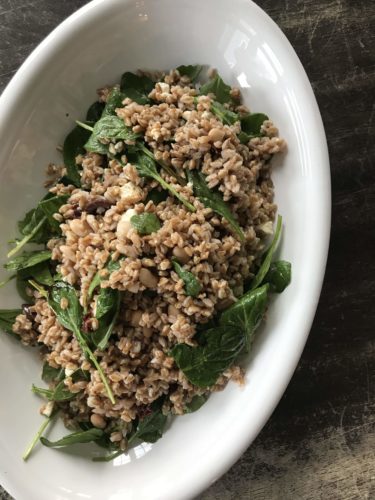 Farro is an ancient grain with a beautifully nutty flavor and chewy texture. The flavors of the Mediterranean are known to promote heart health and weight loss. Here they are wrapped up in a delicious salad.
Get more INSTANT POT RECIPES in the soon-to-be-released
Serves 8
2 cups whole grain farro
2 cups water
1 ¼ tsp kosher salt
½ tsp freshly ground black pepper
2 tbsp olive oil
2 tbsp balsamic vinegar
1 (15oz)can cannellini beans, rinsed and drained
¼ cup chopped sun dried tomatoes, packed in oil, drained
¼ cup thinly sliced red onion
½ cup crumbled feta cheese
¼ cup chopped kalamata olives
3 cups baby spinach
1.    Stir farro, water and 1 tsp salt in the inner pot.
2.    Cover and lock the lid in place. Set to pressure cook (high) for 25 minutes. Use quick release method and remove lid.
3.    Pour into a colander to rinse and drain then transfer to a large bowl.
4.    Add remained ¼ tsp salt, pepper, olive oil, vinegar, beans, sun dried tomato, onion, feta, olives and spinach to the bowl and toss gently.
5.    Serve at room temperature and store leftovers in the refrigerator for up to 5 days.
Calories    247
Total fat    9g
Saturated fat    2g
Sodium   249mg
Carbohydrates    37g
Dietary fiber    5g
Protein    8g
Modified from Healthy Instant Pot Cookbook reprinted by permission of Alpha, a division of Penguin Random House LLC. Copyright © 2018 by Dana Angelo White