Immunity Soup (aka Roasted Turnip & Turmeric Soup)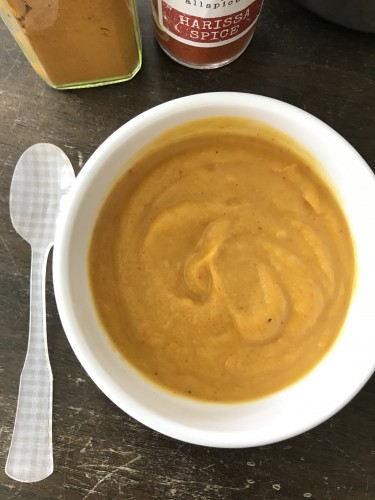 I absolutely love recipes created out of what I have around the kitchen. This soup was inspired by turnips from my CSA and the remaining butternut squash from my garden. My oldest daughter was home with a cold and I wanted to make something to help.
While there is no such thing as a cure for a cold – this was pretty close – made with antioxidant rich vegetables, inflammation fighting turmeric and the most powerful ingredient – a mother's love.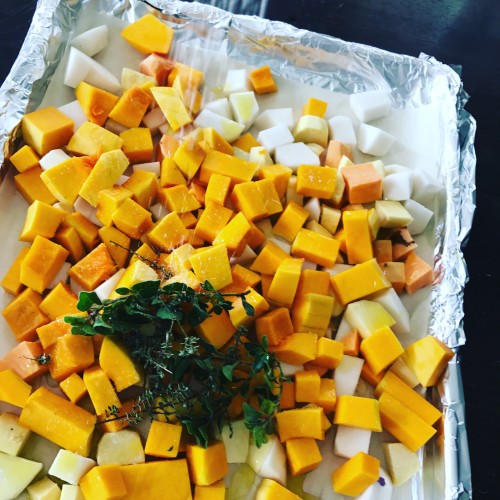 Roasting the vegetables ahead is what makes this soup so flavorful with so few ingredients!
Add this soul warming recipe to your cold and flu season arsenal ASAP! The vegetables can be roasted ahead and stored in the fridge for up to 5 days. For an extra kick add a little bit of smoked paprika, cayenne or a sprinkle of Harissa spice blend I got as a gift from The Allspicery.
Immunity Soup (aka Roasted Turnip & Turmeric Soup)
Serves 8  
1 medium butternut squash, peeled, seeded and diced
3 large turnips, peeled and diced
2 medium sweet potato, peeled and diced
2 tablespoons olive oil
1 bunch fresh oregano
1 small bunch fresh thyme
1 quart chicken stock, homemade or low sodium
3 tablespoons heavy cream
2 teaspoons ground turmeric
Kosher salt
Black pepper
Preheat oven to 400-degrees F. Place vegetables on a sheet pan, drizzle with olive oil and season with 1 teaspoon kosher salt and black pepper to taste; toss in the fresh herbs and roast for 35 minutes or until vegetables are fork tender. Discard the herbs and place roasted vegetables in a large soup pot. Add stock, cream and turmeric and season with an additional ½ teaspoon salt; stir and bring to a boil. Puree using an immersion blender – taste for seasoning and serve.  
Nutrition Info per 1 cup serving
Calories: 125; Total Fat: 6 gram; Saturated Fat: 2 grams; Total Carbohydrate: 17 grams
Sugars: 5 grams; Protein: 3 grams; Sodium: 383 milligrams; Cholesterol:  8 milligrams
fiber: 3 grams