Easy Weeknight Dinner: Pizza Pockets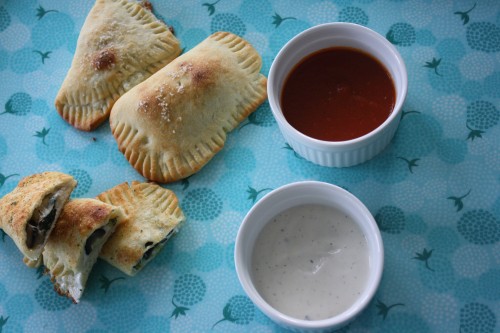 These pizza pockets are always a crown pleaser! Experiment with different fillings and get the kiddos in the kitchen to help with the prep work. Try a veggie version for Meatless Monday.
Yield: Makes 8 pockets
16 ounces pizza dough
1 cup shredded part skim mozzarella cheese
½ cup shredded provolone cheese
2 cups chopped vegetables (such as broccoli, kale, mushrooms, bell peppers)
2 tablespoons olive oil
Light ranch dressing and marinara sauce, for serving
Preheat oven to 500-degrees F. On a lightly floured surface, roll out dough 8, 2-oz pieces of dough into small circles.
Place a small mound of shredded cheese and vegetables in the center of each piece of dough. Gently fold over the filling, creating a pocket and crimp the edges closed using a fork. Using a paring knife, poke 2 small holes in the top of the pocket to allow steam to escape. Transfer to a baking sheet and repeat with remaining pieces of dough.
Brush each pocket with oil and bake for 12-14 minutes, until golden brown; allow to cool for at least 10 minutes. Serve with dressing and sauce for dipping.
Nutrition Info Per Piece (does not include dipping sauces)
Calories: 224; Total Fat: 11 grams; Saturated Fat: 4 grams; Total Carbohydrate: 23 grams
Sugars: 1 gram; Protein: 10 grams; Sodium: 200 milligrams; Cholesterol: 12 milligrams
Fiber: 3 grams