Watermelon Panzanella with Fresh Mint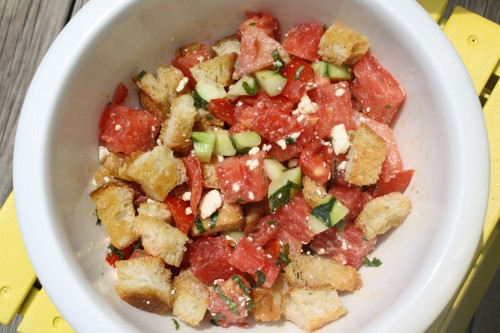 A delightful marriage of textures and flavors – this recipe will surely become a summertime favorite.
Serves: 4
4 thick slices day-old bread, cubed (preferably whole grain)
3 tablespoons extra-virgin olive oil, divided
3 cups cubed watermelon
1 medium tomato, chopped
1 cup chopped cucumber
2 tablespoons chopped fresh mint
¼ cup crumbled feta cheese
½ teaspoon lemon zest
Juice of ½ a lemon
Kosher salt
Freshly ground black pepper
Preheat oven to 350-degrees F. Place bread on a sheet pan, drizzle with 2 teaspoons olive oil and season with ¼ teaspoon salt and a pinch of black pepper. Bake until toasted, about 15 minutes; cool to room temperature.
In a large bowl combine toasted bread, watermelon, tomato, cucumber, mint and feta. Add lemon zest, lemon juice, remaining oil, and season salad with an additional ¼ teaspoon of salt and black pepper to taste. Toss well and serve.
Nutrition Info Per Serving
Calories: 239; Total Fat: 13 grams; Saturated Fat: 3 grams; Total Carbohydrate: 26 grams
Protein: 7 grams; Sodium: 383 milligrams; Cholesterol: 8 milligrams; Fiber: 5 grams