Sticky Chicken Lettuce Cups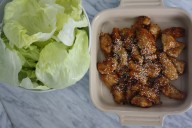 Make this easy, healthy, and fun finger food for a weeknight dinner or a gameday spread.
Serves 4
2 pounds boneless, skinless chicken breast, cut into strips
¼ cup cornstarch
2 tablespoons canola oil
1 tablespoon reduced sodium soy sauce or tamari
¼ cup mild honey
1 tablespoon sesame seeds
Serving suggestions: lettuce leaves, shredded carrot, sliced cucumber, lime wedges, Sriracha
Place chicken and cornstarch in a large resealable bag; close bag and toss to coat the pieces in cornstarch. Heat oil in a large wok or skillet over high heat. Add chicken and brown on both sides. Add soy sauce and cook for 1 minute before adding honey and sesame seeds. Continue to cook, tossing frequently until sauce is thickened and chicken is cooked through, 7 to 10 minutes.  Serve chicken wrapped in lettuce leaves and topped with desired toppings.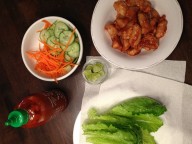 Nutrition Info Per Serving: Calories: 424; Total Fat: 13 grams; Saturated Fat: 2 grams; Total Carbohydrate: 26 grams; Sugars: 20 grams; Protein: 50 grams; Sodium: 386 milligrams; Cholesterol: 145 milligrams; Fiber: 3 grams