Coffee Cure Smoothie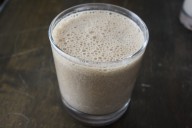 A terrific way to use up left over coffee. This shake is an entirely new take on a cup of Joe.
½ cup brewed coffee (regular or decaf)
½ cup vanilla almond milk
1 medium banana, frozen (freeze ahead of time)
Honey and cinnamon to taste

Combine ingredients in a blender – blend until smooth. 

Nutrition Information Per Serving
Calories: 151
Total Fat: 3 grams
Saturated Fat: 0 grams
Carbohydrate: 29 grams
Fiber:  5 grams
Protein: 6 grams
Sodium:  19 milligrams
Cholesterol:  0 milligrams